include('/var/www/vhosts/eindiatourism.com/public_html/sww-your-ad-top.html') ?>
4 Secrets to a Successful Flight to India With Kids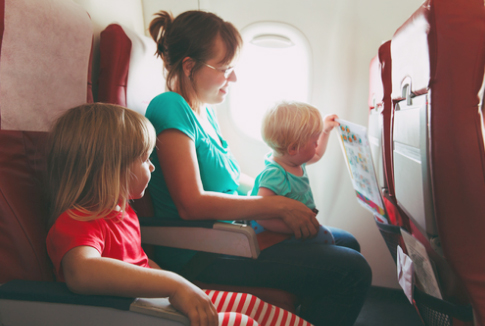 Traveling with kids is rarely easy, but it's better than staying home. Get your trip to India off to a great start by preparing as much as you can for your flight to keep your little one entertained. Here are a few things to consider bringing.
Spring for In-Flight Wi-Fi
In-flight Wi-Fi is a real game changer when it comes to traveling with kids, especially on long flights. After all, that iPad only has so much storage available, and you never know when your kid will decide that they suddenly no longer like that TV show you downloaded an entire season of to keep him entertained. With in-flight Wi-Fi, you can enjoy the flexibility to let your child choose whatever show or movie he wants to stream or he can surf Youtube Kids or play games.

Still hesitant to spend the money? If you have a T-Mobile plan and the airline uses Gogo inflight Wi-Fi, you can get inflight Wi-Fi for free, as well as unlimited texting and use of text apps like iMessage, Viber, Google Hangouts and WhatsApp. This is ideal for older kids who want to keep in touch with friends at home while you're off on holiday in India.
Keep Them Comfortable
No matter what the age, an uncomfortable traveler makes for a grumpy traveler. And if your kids are grumpy and uncomfortable, it will be that much harder to keep them occupied for your long flight to India. Bring whatever you need to in order to keep them cozy. Enlist your kid to pick out a fancy neck pillow and a nice thin blanket that can be easily packed in your carry-on. Bring a pair of pajamas and a sleep mask as well to help your child relax and get some sleep during your flight.

For first-class comfort back in coach, invest in a Plane Pal inflatable travel pillow. It inflates to fill the legroom in front of your child's seat so that he or she can kick up their feet and stretch out comfortably to lay down for a nap.
Get a Few New Things
Novelty is the name of the game when it comes to keeping kids entertained up in the air. Spring for a few new toys and books that your kid will love. You don't have to get anything fancy, simply stroll through the dollar section at Target and you are bound to find a few items that your little one will love that won't break the bank. Add some extra excitement by gift wrapping each item. Unwrapping will become part of the in-flight entertainment and make the new items exponentially more interesting to your child.
Bring All the Snacks
Something about flying brings out a burst of hunger in children unlike anything else. Without ample prep, you may find yourself running low on snacks before you even take off, so be sure to pack much more than you think you will need. Have an assortment of tried and true favorites, as well as a few new snacks and a couple of special treats that your kid doesn't normally get to eat, like a favorite candy.

Save room in your carry-on by making your kid carry most of his own snacks in a backpack. Pack snacks in a bento box-style lunch box, or even a multi-compartment craft box, to add a little novelty and fun to your in-flight snacks.