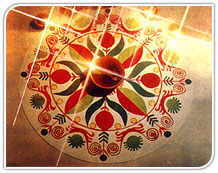 India is a rich land which has attracted invaders from Central Europe and Asia who left their imprint on this land, its religions and its lifestyles over 40 centuries. The Greeks , under Al-exander the great, travelled as far down as the lower Indus River which they mis pronounced as the "Hindu River" Consequently, all the various in vaders, with their conflicting faiths, who inhabited the land of the Indus River were called Hindus and their land, Hindustan. It was shortened to "HIND", then "IND" and finally INDIA.
Festivals in India are determined by the Solar & Lunar positions & they may fall in a different month as specified here. Kindly contact our
members
for exact date/ month of festivals/ fairs in India.
January:
Common Festivals:
Makar Sankranti, Lohri, Pongal, Thai Pusam, Float Festival, National Kite Festival, Kerela Village Fair, Bikaner Festival, Pattadakal Dance Festival, Id-ul-Fittr, Vasant Panchami
February
Common Festivals:
Mahashivratri, Goa Carnival, Desert Festival, Nagaur Fair, International Yoga Week, Elephant Festival, Deccan Festival, Taj Mahotsav, Surajkund Crafts Mela, Chapchar Kut, Islands Tourism Festival
March
Common Festivals:
Holi, Gangaur, Jamshed-e-Navroz, Ramnavami, id-ul-Zuha, Mahavir Jayanti, Khajuraho Dance Festival, Elephant Festival, Hoysala Mahotsava, Ellora Festival,
April
Common Festivals:
Good Friday, Easter, Baisakhi, Gudi Padva or Ugadi, Pooram, Maharram, Buddha Purnima, Mewar
May
Common Festivals:
Urs
June
Common Festivals:
Ganga Dussehra, Hemis Festival,
July
Common Festivals:
Rathyatra, Guru Purnima
August
Common Festivals:
Janmashtami, Onam, Nag Panchami, Rakshabandhan, Ganesh Chaturthi
September
Common Festivals:
Tarnetar Mela
October
Common Festivals:
Navratri, Durga Puja, Dussehra, Marwar Festival
November
Common Festivals:
Sharad Purnima, Diwali, Guu Purab, Ka Pomblang Nongrem, Sonepur Fair, Pushkar Fair, Hampi Festival
December
Common Festivals:
Christmas, Konark Dance Festival