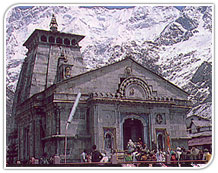 One of the twelve "Jyotirlingas" of Lord Shiva, Kedarnath is amongst the premier pilgrimage centres in the country.
Situated at and altitude of 3,581 mts. above sea level, against the backdrop of the awe-inspring Kedarnath range , the temple of Sri Kedarnath is visited by hundreds of devotees every year.
It was at Kedarnath, narrates the epic Mahabharat, that Yudhishthir, the eldest of the Pandava brothers, departed to Heaven; another legend has is that the Pandavas of the Mahabharat epic underwent severe penances here to atone the killings of their kith and kin in the great battle of Kurukshetra and so estanlished this shrine.
At the entrance to the temple is a statue of Nandi, the divine the bull. The interiors of the Kedarnath temple are exquisitely carved with images.