include('/var/www/vhosts/eindiatourism.com/public_html/sww-your-ad-top.html') ?>

Home
>>
States
>>
Kerala
>> Backwaters
include('../random_txt.html') ?>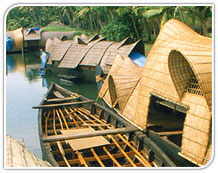 900 km of tranquility
It's an intricate network of innumerable lagoons, lakes, canals, estuaries and the deltas of forty-four rivers that drain into the Arabian Sea. Over 900 km of this labyrinthine waterworld is navigable. The largest backwater stretch in Kerala is the Vembanad lake which flows through three districts and opens out into the sea at the Kochi port.
The Ashtamudi Lake (literally, having eight arms), which covers a major portion of Kollam district in the south, is the second largest and is considered the gateway to the backwaters.
The Ketturvallom:
Showcasing a unique heritage The kettuvalloms (houseboats) of Kerala are giant country crafts, measuring up to 80 feet in length. It took great skill and meticulousness to construct these giants by tying huge planks of jack wood together, without the use of a single nail.
Today, these goods carriers have been adapted to make the most exciting tourism product in India, the luxurious furnished houseboat. A kettuvallom usually has one or two bath attached bedrooms, an open lounge, deck, kitchenette and a crew comprising oarsmen, a cook and guide.
THE BACKWATER DESTINATIONS:
Special Offers on Hotels & Resort Booking in Kerala
Travel Agents & Tour Operators offering Travel Packages to Kerala