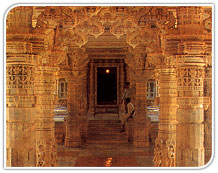 Mount Abu, the only hill resort of Rajasthan, situated at the highest peak of the Aravali at an altitude of 1220 meters. This "Hill of Wisdom" and a true " Olympus of Rajasthan" stands on an independent hillock, which is separated from the main Aravali ranges by a deep gorge.
When ascending the mountain, one can hardly fail to be impressed with the grandeur and the scenic beauty, the gigantic blocks of rocks, towering along the crest of the hill, are especially striking, in some cases so weather- worn, that they present most fanciful and weird shapes, while in others appear so slightly balanced as to be in danger of rolling down.
It is not only one of the prettiest hill stations in the country, but a major Rajput and Jain pilgrimage center. The legend goes that a 'yagna' was performed here and four Agnikula or fireborn Rajput clans the Chauhans, Parmaras, Pratiharas and Solankis were created out of fire. Till 11th century, Mount Abu was an important Vaishnav and Shiva pilgrimage center, but now it has gained importance as a Jain pilgrim center.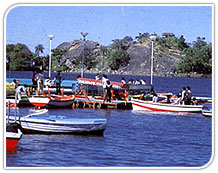 The hill boasts of rich vegetation and thick forest, it stands out as an oasis in the arid environs, it is pleasant climate picturesque setting invite thousands of tourists for pleasure trips and relaxation.
General Information :
Population: 15500
Area: 25 sq. km.
Altitude: 1220 meters.
Temperature
Summer: Max. 33.3 degree centigrade Min 23.3 degree centigrade
Winter: Max. 23.3 degree centigrade Min. 11.6 degree centigrade
Rainfall: 153 to 177 cms.
Clothing:
Summer Cottons
Winter woolens
Languages:
Gujarati, Hindi, and English
Special Offers on Hotels & Resort Booking in Mount Abu
Travel Agents & Tour Operators offering Travel Packages to Mount Abu