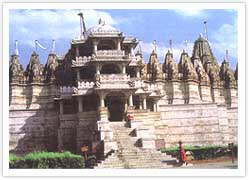 Renowned for some marvellously carved Jain temples in amber stone ranakpur is one of the five holy places of the jain community, 96km from Udaipur, these temples were created in the 15th century A.D. during the regin of Rana Kumbha and are enclosed within a wall. The central chaumukha or four faced temple is dedicated to the venerated trithankara Rishabhji. Open on all four sides it enshrines the four faced image of Adinath. Sprawling over 48,000 sq.feet the temple is an astounding creation with 29 halls and 1,444 pillars-all distinctly carved.
Images of 24 tirthnkars are carved on the 'mandaps' or porticoes in a corridor around the shrine with each mandap having a 'shikhar' or spripe adorned the shrine with each mandap on the top. The gentle breeze wafting through the corridor move the bell creating celestial music all around the complex. Rising in three storeys, the temple has four small shrines with 80 spries supported by 420 columns.
Two temples dedicated to the Jain saints-parvanath and Neminath, face the main temple. The temple have beautiful carvings simillar to that of Khajuraho.
Another temple worth visiting is the nearby sun temples an 8th century A.D. temple Didicated to the sun god. The temple has polygonal walls, richly embellised with carvings of worriors, horses and solar deities riding splendid chariots.
Special Offers on Hotels & Resort Booking in Ranakpur
Travel Agents & Tour Operators offering Travel Packages to Ranakpur