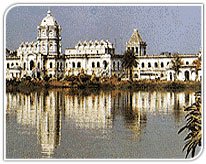 Tripura accded to the Indian Union in 1949. This anicient land of mysterious past is located in the north Eastern region of India between 22.56 and 24''.32' North latitude and 92"09' and 92"20' east longitude and is bounded on the north west south and south east by the international boundary f Bangladesh. In the east it has a common boundary with Assam abd Mizoraam. 60% of the total area eco-friendly envirnoment and pleasant weather of this panaromic tiny state with an area of about 10,500 sq. kms. is inhabited largely by 19 tribes, Bengali, Manipuri and other communities.
Tripura represents a composite culture with several ethnic groups residing in the state. Though the cultural heritage of one community differs from the other, the manifaceted efforts have mingled them into a single whole, giving birth to a unique cultural genre. Tripura can be termed as a 'laboratory' of exotic cultural synthesis.
Considering the proximity of Tripura with Bangladesh, it is more convenient for foreign nationals to enter Tripura via Bangladesh with an appropriate visa. Those foreign natinonals coming to Dacca or other cities of Bangladesh may come to Agartala via Akhaura border check-post. Similarly, foreign tourists coming to Tripura by other routes may go back to Bangladesh via this route. If tourist's coming via this route intimate the State's Information, Cultural Affairs & Tourism Department in advance, either in writing or over the phone, necessary arrangements in this regard can be made. The journey time by road between Dacca and Agartala is approximately 3 hours.
Places to Visit

Agartala