include('/var/www/vhosts/eindiatourism.com/public_html/header.html') ?>
Goa Travel Guide


include('../random_txt.html') ?>

About Goa Travel Guide
Goa which was liberated on 19th December, 1961 alongwhh Daman and Diu from 451 years Portuguese Colonial Rule, became the 25th State of the Indian Union when it was conferred Statehood on 30th May, 1987.

The State of Goa has a Legislative Assembly with a strength of 40 elected members. Besides, Goa has three elected representatives in the Central Parliament. The Governor is the Head of the State and is advised by a Council of Ministers headed by Chief Minister. Panaji, a small picturesque town on the left bank of river Mandovi, is the seat of the State Administration. However, for administrative purposes, the State has been divided into two districts: North Goa and South Goa with headquarters at Panaji and Margao respectively, and six divisions comprising 11 Talukas.

Ensconced on the slopes of the Western ghats (Sahyadri ranges) Goa is bounded on the North by Sindhudurg district of Maharashtra, on the East by Belgaum, on the South by Karwar district of Kamataka and on the West by Arabian Sea. Its rivers, Tiracol,Chapora, Mandovi, Zuari, Sal and Talpona, which are navigable throughout the year, have their origin in the Sahyadri ranges and flow westward into the Arabian Sea, 60 kms. away, breaking the long coast line covering a length of 105 kms. into enchanting estuaries and bays which mark off idyllic palm-fringed beaches like Arambol, Vagator,Atijuna, Baga and Calangute in the North and Colva. Betui and Palolem in the South.

Goa, a tiny emerald land on the West Coast of India, with its natural scenic beauty, attractive beaches and temples famous for its architecture, feasts and festivals and above all hospitable people with a rich cultural milieu, has an ideal tourist profile.

Although, Goa joined national mainstream only after 14-years of the country's independence, tourist traffic to Goa registered such phenomenal growth that from 2.00 lakhs tourists in 1975 the figure has shot up to 11.26 lakhs in 1996 of which domestic tourists comprise 8.88 lakhs and foreigners account for 2.37 lakhs including almost 73,000 through charter flights from U.K. Germany. Switzerland, Finland. As on today, the total bed capacity stands at 21,000 beds, of which the public sector account for 10% with the rest in the private sector. With the projected rise in tourist traffic to 14 lakhs by the turn of century, the bed capacity would require further augmentation of at least 20 thousand.

Goa's income from Tourism in terms of foreign exchange earned, the figures have gone up from Rs.32.64 crores in 1986-87 to Rs.194 60 crores in 1994-95 which represents a steady rise of about 25% every year In the State 20% of its population earn their livelihood directly and indirectly, form tourism activities.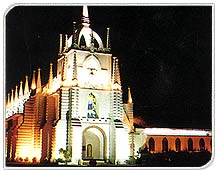 Conscious of preservation and conservation of environment, ecology and arrchitecture, the State Government had decided that no construction or development shall be permitted on the sandy stretches with 200 meters of High Tide Line in general. Further, such development is subject to the restrictions laid down by the Government of India under the Environment Protection Act and Regulations.

General Information

Area: 3,702 sq. kms.
Population: 11,69,793 (1991 Census)
Altitude: Sea level to 1,022 metres.
Location: Between latitude 15 degree 48'00 "N & 14 degree 54' "N and Longitudes 74 degree 20' 13 "E & 73 degree 40' 33 "E
Clothing: Tropical clothing throughout the year. Light woolen can be during December and January.
Languages Spoken: Konkani, Matrathi, Hindi, English and Portuguese.
Tourist Season: Throughout the year (November to February is pleasant while June to September is rainy season).

Transport and Communication

Air: Goa is connected by Indian Airlines & Alliance Air from Mumbai, Bangalore, Cochin, Delhi and Agatti (Lakshadweep)
Rail: Goa is connected with Mumbai, Delhi, Pune, Secunderabad, Tirupati via Londa junction on the Mirage-Bangalore sector of south central railway, and to Mumbai, and Mangalore on the Konkan Railway Corporation section. Convenient stations are Margao/Vasco and Karmali.

-------------------------------------------------------------------------------------------------------------------------------------------------------------------------------------------------------------------------------

include('/var/www/vhosts/eindiatourism.com/public_html/footer.html') ?>