include('/var/www/vhosts/eindiatourism.com/public_html/sww-your-ad-top.html') ?>

Fairs & Festivals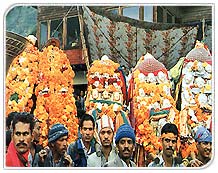 January:
Halda, local New year, Lahaul, Phagli, Lahaul, Dechhang. Mid-winter celebrations. Lahaul-Spiti, sazi (sazo), kinnaur.
February/March :
Shivaratri Fair at baijnath Shivratri Fair at Mandi Nalwari Cattel Fair at Biaspur Chesu Fair at Rewlsar Holy fair at Sujanpur Tira Gochi, Lahaul Lossar, Dances, Lahaul-Spiti. Char, Lahaul
April :
Rohru festival at Rorhu
May/June :
Summer Festival at Dharamasala Summer Festival at Shimla Salloni Fair at Solan Chheshu, Monastic, Festival , Lahaul, Ghantal, Festival, Lahaul.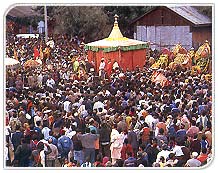 July/August:
Minjar Fair at Chamba Tribal Fair at keylong Ladarcha Festival, Spiti. Dakhrain, Kinnaur Lahaul Utsav, Lahaul Pauri Festival, Lahaul.
August/September :
Phulaich Festival at Sangla Manimahesh Yatra Fullaich (phulech), Flower Festival, Kinnaur, Jagra, Kinnaur.
October/November :
Dushera Festival at Kullu Lavi fair at Rampur Renuka Fair at Renuka Tribal Festival at Reckongpeo
December :
Ice Skating Carnival Christmas
Festivals in Kinnaur, Lahaul and Spiti:
Under the gaze of high mountains and by the side of swift streams, for the people of Kinnaur, Lahaul and Spiti, every moment is a joyous celebration of life. Kinnaur has a festival practically every day of the year. In Lahaul and Spiti, the strong Buddhist influence casts its rich hues over every festival and most are centered around the monasteries.

From religion to trade, from seasons to sports, these tracts have something special for everyone.