include('/var/www/vhosts/eindiatourism.com/public_html/header.html') ?>

include('/var/www/vhosts/eindiatourism.com/public_html/sww-your-ad-top.html') ?>
Home

»

States

»

Rajasthan

» Folk Music & Dances

include('../../random_txt.html') ?>
Folk Music:Communities of folk Musicians
There is a great tradition of popular poetry, which is written under the rival banners of Turra and Kalangi. This is sung in group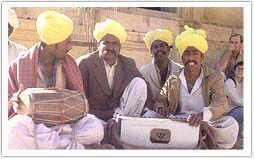 s in Jikri, Kanhaiyya or Geet (of the Meenas), Hele-ke-Khyal and Bam rasiya of eastern Rajasthan. Group singing of classical bandishes called the Dangal or taalbandi is also unique to this region. Bhopas are singing priests of various deities or warriors saints. The Bhopas of Mataji wear red costumes and play the mashak. Dance is often part of the musical tradition and the Thories or Nayaks who are Pabu Bhopas, have a female accompanist; together they recite the Phad (a painted ballad). The Phad itself is an elaborately painted work of art and deeply venerated. The chinpas or Joshis are famous Phad painters.

The Jogis were well-known for their recitation of the great ballad Nihalde Sultan, Shiviji-ka-byawala and songs about Gopi Chand and Bhartrihari. Most of these musical communities have a rural and function as wandering minstrels travelling from villages. There are many other artists in different art froms who use music as an accompaniment. The Dholies, also known as Mirasis, Dhadhies, Manganiyars and langas are known for their distinct musical styles.

State and royal patronage elevated some of these musicians into Kalawants in the royal courts. Their music had acquired a sophistication that was absent from the rustic tones of the others. The famous Maand of Rajasthan, which is unique style of Rajasthan, which is a singing and a core melody, is their creation. True to its desert Ramayan are popular themes for ballad and the Mirasis and Jogis of Mewat have a delightful folk versions of the court while Hadoti has the Ramayan of Dhai Kadi.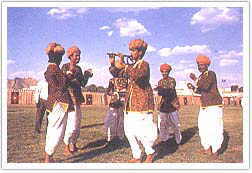 Folk opera is another field, which has been immensely popular by the professionals, often in association with amaeurs, often in association with amateurs. The Chairwai and Kuchamani Khyals, Maach of Chittaurgarth area, Tamasha of Jaipur and Rammat of Bikaner are famous.

The Nautanki and Rasleela are also seen in western Uttar Pradesh, but sadly, the Alinakshi Khyal the original Bhawai palys (which still have a strong presence in Gujarat and the musical tradition of the Rasadharies and Rawals are new extinct. The state government has provided patronage and opportunities for self employment for folk artists by organizing fairs, festivals and cultural programs. It has also aroused and directed the interest of the local people towards our rich cultural heritage.






About Rajasthan| Cities to Visit | Travel Circuits | Places of Interest
Fairs & Festivals | Folk Music & Dances | Gems & Jewellery | Museums of Rajasthan
Adventure Tourism | Pilgrim Centres | Nature Cure & Yoga Centres | Shopper's Paradise

include('/var/www/vhosts/eindiatourism.com/public_html/sww-your-ad-bot.html') ?> include('/var/www/vhosts/eindiatourism.com/public_html/footer.html') ?>