include('/var/www/vhosts/eindiatourism.com/public_html/header.html') ?>

include('/var/www/vhosts/eindiatourism.com/public_html/sww-your-ad-top.html') ?>
Home

»

States

»

Rajasthan

» Shopper's Paradise


include('../../random_txt.html') ?>
Shopper's Paradise : Floor Coverings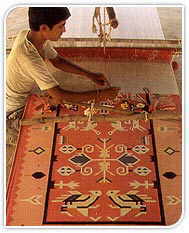 Rajasthan's Floor Covering industry has been revitalised to suit the needs of the modiern buyer and Rajasthani Carpets are making headway in markets not only in India but abroad.

Skilled artisans had been sumn.. Herat (Afghanistan) by Raja Man Singh I of Amer to train the local workers and at present Jaipur, Bikaner and Amer are prominent centres of carpet weaving. The carpet designs are mostly based on Persian and Caucasian styles. Peacocks and flowers are the popular motifs as well as landscapes and geometric designs.

Rajasthani Namdas are woollen druggets decorated with embroidery and applique work. Namdas produced at Tonk are in great demand. Also available are traditional cotton carpets called Durries which are handwoven with geometric patterns and repeating colours.




include('/var/www/vhosts/eindiatourism.com/public_html/sww-your-ad-bot.html') ?> include('/var/www/vhosts/eindiatourism.com/public_html/footer.html') ?>