include('/var/www/vhosts/eindiatourism.com/public_html/header.html') ?>

include('/var/www/vhosts/eindiatourism.com/public_html/sww-your-ad-top.html') ?>
Home

»

States

»

Rajasthan

» Shopper's Paradise


include('../../random_txt.html') ?>
Shopper's Paradise : Jewellery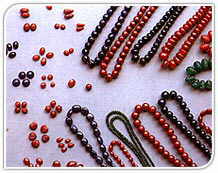 The craftsmanship of the jewellers of Rajasthan is renowned all over. Silver is more commonly worn by the rural women and is certainly more affordable for a shopper, although for the dedicated collectors, goldwork of the highest quality is also available. Even the men in Rajasthan wear elaborate jewellery, perhaps even a bold earring dangling down.

Bangles are a special attraction of Rajasthan. Lac bangles are believed to be worn as a sign of good omen and are available in many colours & designs. Glass bangles, made in great variety in Jaipur & Jodhpur, are perennially in demand and are available in most parts of the state.

Kundan and enamel jewellery has been a speciality of Rajasthan, particularly that of Jaipur. Kundan is the art of setting precious stones in gold.

The stones are embossed into decorative shapes & patterns and embellished with delicate enamel ornamentation in the champeve ( raised field ) technique. The designs are mostly exquisitely entwined flowers and birds and sometimes human and animal figures.

Jaipur is well known for its gold and silver enamelling. This traditional art of Meeriakariis also done in Nathdwara.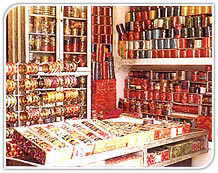 The thewa work of Pratapgarh is highly exquisite and popular, in this technique, designs are enamelled in gold on a glass base. The base used is generally green or red in colour.

Precious & Semi - Precious Stones :


Rajasthan has rich deposits of precious and semi-precious stones such as emerald, garnet, agate, amethyst, topaz and lapiz lazuli. The various precious stones are given an iconc""""1"1'^ symbolic of the Hindu gods as well as planets of the Indian astrological system. Each gem is believed to have inherent powers and some of them are worn in rings and other jewellery as lucky charms.

The skilled gem-cutters of Jaipur also carve enchanting little animals and birds from rock, crystal, jade, smoky topaz and amethyst. For the stylish tourist, intaglio beads & buttons and crystal scent bottles are also available
Shopper's Paradise Home . Textiles . Paintings . Jewellery . Floor Coverings . Metalware Terracotta . Blue Pottery . Stone Craft . Leatherware . Toys & Dolls . Furniture . Woodcraft About Rajasthan

|

Cities to Visit

|

Travel Circuits

|

Places of InterestFairs & Festivals

|

Folk Music & Dances

|

Gems & Jewellery

|

Museums of Rajasthan Adventure Tourism

|

Pilgrim Centres

|

Nature Cure & Yoga Centres

|

Shopper's Paradise

include('/var/www/vhosts/eindiatourism.com/public_html/sww-your-ad-bot.html') ?> include('/var/www/vhosts/eindiatourism.com/public_html/footer.html') ?>