include('/var/www/vhosts/eindiatourism.com/public_html/header.html') ?>

include('/var/www/vhosts/eindiatourism.com/public_html/sww-your-ad-top.html') ?>
Home

»

States

»

Rajasthan

» Shopper's Paradise

include('../../random_txt.html') ?>
Shopper's Paradise : Paintings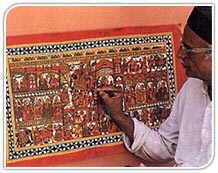 An irressisable buy bare the paintings of Rajsthan . The paintings done in inimitable styles and colour rendering are so distinctive that they catch the eye and touch the soul.

'Rajsathan has many schools ol painting having Their own districts styles, well known among them being Marwar, Mewar, Hadoti Kishangarh, Dhundhur and Alwar.

The Miniature Paintings of Rajsthan which had flourishedunder princely patronage are still reproduced and descendants of the original craftsmen continue to produce miniture masterpieces, retaining their classic elegance . They are often made on hand made paper mathological the ms from Ramayana, Krishna Lila, Ragamala, and Geetgovinda are commonly used . In the paintaings , Vivdly rendred are hills valleys, gardens, palaces, court scenes and relifious processions.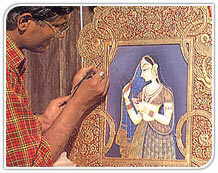 Popular are the Phad paintings which are predominotaly red and green scrolls depicting the life of the local hero Pabuji. They are made by the Joshis of Shahpur, near Bhilwara, and are now available in smaller panels portrying single incidents or chracters from the epics .

Pichwais are cloth paintings hung in temples. Made in Udaipurand Nathdwara these paintings depicts lord Krishna, as Shrinathji diffrent moods. They are done in dark rich hues and have deep religious connotations. Alll over Rjsthan one can see brightly coloured Murals depiciting folk processions and battles.

The Frescoes of Shekhawati are world renowned and the region is popularly termed as an "Open Air Art Gallery", Today the tourist can take home a piece of this art and decorate their walls at home, for these traditional murals have been recreated in paper and also in cloth.



include('/var/www/vhosts/eindiatourism.com/public_html/sww-your-ad-bot.html') ?> include('/var/www/vhosts/eindiatourism.com/public_html/footer.html') ?>