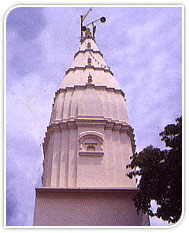 Govardhan is situated 26 km west of Mathura on the state highway to Deeg.
A famous place of Hindu pilgrimage, Govardhan is located on a narrow sandstone hill known as Giriraj which is about 8 km in length.
The young Lord Krishna is said to have held Giriraj up on the tip of a finger for 7 days and nights to shield the people of Braj from the deluge of rain sent down by Lord Indra.
Govardhan is set along the edge of a large masonry tank known as the Mansi Ganga, which is believed to have been brought into existence by the operation of the divine will.
Its enclosues were built by Raja Bhagwan Das of Amer in 1637 and embellished by Raja Man Singh, who built a long flight of steps leading up, from the end of the tank.
Close by is the famous red sandstone temple of Haridev and the kusum sarovar with exquisitely carved chhatris-the centaphs of the members of the royal family of Bharatpur, who perished whilst fighting against the British in 1825.
Towards the south is the beautiful chhatri of Raja Surajmal of Bhartpur.
Fine frescoes-illuminating the life of Surajmal, vividly depict darbar and hunting scenes, royal processions and wars.
Special Offers on Hotels & Resort Booking in Uttarpradesh
Travel Agents & Tour Operators offering Travel Packages in Uttarpradesh