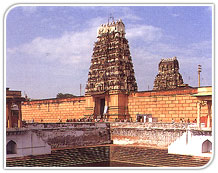 Closely linked to Lord Krishna's yout and to stories of his playful pranks, Vrindavan is as impotant a place of pilgrimage as mathura.
Today it is a temple town with ghats along the rivfer and numerous shrines.
The most important are:
The imposing Govind Deo Temple built at an enormous cost of one crore rupees by Raja man singh of jaipur in 1590 AD. Constructed in red sandstone in the shape of a greek cross, it was once a magnificent siven storeyed structure.
The Rangaji Temple built in the dravidian style, the Madan Mohan Temple - the oldest in Vrindavan, the popular Banke Bihari Temple, the famous Radha Vallabh Temple and the ornate Shahji Temple built in 1876 by a wealthy jeweller Shah Kundan Lal of Luckknow, are some of its more interesting shrines.
The International Society for Krishna Consiousness (ISKCON) has also built an ornamental marbel temple at Vrindavan.
Adjoining the temple is the Samadhi of Shri Prabhupada, the founder of this.
Special Offers on Hotels & Resort Booking in Uttarpradesh
Travel Agents & Tour Operators offering Travel Packages in Uttarpradesh