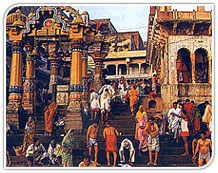 Mathura the birthplace of lord Krishna is an important place of pilgrimage and thousands of devotees throng the city throughout the year.
It lies at the heart that the young Krishna was nurtured. The little towns and hamlets in this area still alive with the tales of his mischievous pranks, his extraordinary exploits and still seem to echo with the sound of his flute. An ancient habitation, mathura's strategic location ensured its position as a center of trade and a meeting point of cultures, a major city during the time of the Buddha ( 5th century BC) it became the eastern capital of the Kushan emperor Kanishka,. Mathura continued to be a center of power during the enlightened rule of emperor Ashoka (3rd centre BC) and up to the Gupta era (4th century AD) .
The arts flourished and at the Mathura museum one can trace the evolution of the Mathura school from the time of the Kushan emperors To the Gupta period.
Today, Mathura with its many temples and splendid ghats along the river yamuna is a Bustling pilgrimage town. Lying midway in between Delhi and Agra , Mathura is easy to visit.
Places to see:
Shri Krishna Janmasthan:
The splendid temple Katra Keshav Dev is built over the little prison cell believed to be the birthplace of lord Krishna.
Gita Mandir:
A beautiful temple located on the Mathura - Vrindavan road, has a fine image of lord krishna. The Bhagwadgita is inscribed on the walls.
Dwarakadhish Temple:
Mathura's most popular shrine was built in 1815 by Seth Gokuldas Parikh, treasurer or the state of Gwalior.
Vishram Ghat:
A long line of picturesque ghats, steps leading to the water's edge , punctuated by arched gateways and temple spires, extend along the right bank of the river Yamuna. There are about 25 ghats of which the Vishram Ghat is the most important.
It is here that lord Krishna is supposed to have rested after killing his wicked uncle Kansa, the ruler of Mathura The aarti at this ghat is a splendid sight, for hundreds of little oil lamps float out on the river at dusk as offering.
Kans Qila:
This ruined fort on the banks of the river Yamuna was built by Raja Mansingh of Jaipur. An observatory was built here at a later sate by that keen astronomer Maharaja Sawai Jai Singh of Amer.
Sati Burj:
The 17 m tall, 4 storeed, red sandstone tower built in 1570 AD, commemorates the death of the widow of Raja Biharimal of Amer who committed sati.
The Government Museum:
Housed in a fine octagonal building at damper park, the museum is a repository of sculpture styles, terracotta and artifacts from the Kushan and Gupta periods. Among its most impressive exhibits are the headless figure of emperor kanishka dressed in central Asian robes and boots and various Buddha images.