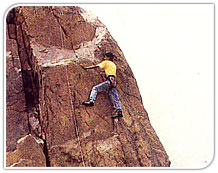 Delhi itself is the centre for a lot of rock climbing activity, especially around Tughlaqabad, about one kilometre from the Qutab Minar.
In this arid vastness, there are very good practise rocks of about 25 feet that are ideal for learners. For those who can afford the time, short trips beyond the capital can afford even better options.
The Aravalli hills around Delhi have naked rockfaces testing the capabilities of even experienced climbers.
Dumdama, 52 km from Delhi, is scenically pleasant, having a lake and a large number of water birds.
Some of the other major centres are beyond Pune, on the Western Ghats on the Mumbai-Nasik highway.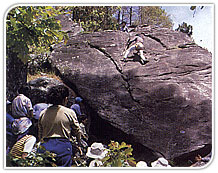 Manali in Himachal Pradesh offers some of the best rocks, while in South India, Chamundi Hills in Kamataka and rock formations along the Bangalore-Mysore highway offer the best rock climbing options. T
hough it can be practiced all the year round, summer time restricts it to early morning while the monsoon season makes it impossible and as with most adventure sports, it does require an experienced trainer or guide.