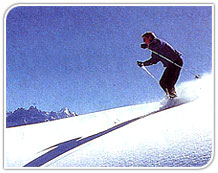 With their vast open spaces, above the snowline, the Garhwal and Kumaon hills of Uttaranchal, offer a plethora of ski locales. For the avid skier, cross - country runs of 10-20 km are now available, with the added advantage of fresh powder snow.
Due to their awesome height and spread, Garhwal and Kumaon, like other areas in the Himalayas, offer the thrills of exploratory long distance skiing, round the year.
Winter skiing in Garhwal is, now, professionally conducted at the Auli slopes.
The usual season is late December to early March, depending on the snow conditions.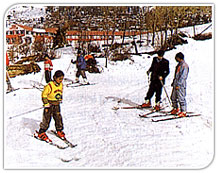 Skiing at Auli:
Auli, 16 kms from Joshimath, is an ideal winter resort. The divine slopes of Auli, coupled with state-of-the-art facilities have made it comparable with the best in the world.
Click Here for More about
Skiing at Auli
Skiing at Pithoragarh in the Kumaon hills:
The eastern most hill district of Uttaranchal, bordering Nepal in the east and Tibet in the north, Pithoragarh, is often called 'Miniature Kashmir'.
Nestling amongst the spectacular Kumaon Himalayas, at a height of 5412 ft., in a small valley, barely 5 km long and
2 km wide, Pithoragarh was an important centre, of the Chand kings of Kumaon.
Apart from the excellent skiing slopes, Pithoragarh and its environs, are known for their profuse natural beauty,
and fine temples.
Other ski locales:In Garhwal

Dayara Bugyal & Kush Kalyan in district Uttarkashi.

Panwali & Matya in district Tehri Garhwal

Mundali in district Dehradun

Bedni Budyal in Chamoli
In Kumaon

Khalia Top in Munsiyari in Pithoragarh

Chiplakot Valley in Pithoragarh