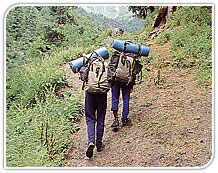 For those fascinated by the unexplored, the mountain ranges of India offer breathtaking, enthralling trekking routes. In the vast amphitheatre of the Indian Himalayas and Karakorams, there are limitless possibilities for trekking, mountaineering, skiing, and river rafting. Within this alluring arena, the Garhwal and Kumaon regions, occupy the central place, with special points of interest for the trekker.
Spectacular views apart, the Himalayan foothills are just ideal for trekking, offering energetic out-door people a different and exciting option for a holiday. The Garhwal and Kumaon regions of Uttaranchal are the most popular destinations for trekkers, though Chamba and Manali in Himachal Pradesh, and Ladakh and Zanskar in Jammu and Kashmir, have interesting trekking routes as well.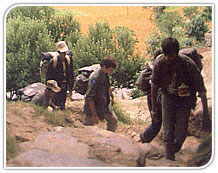 Darjeeling and Sikkim in the east also have some trekking routes. While trekking as a sporting activity does not require prior training or practice, except that the trekker should be in good physical condition, there are certain dos and don'ts which should be adhered to. Routes should be carefully chosen, as some treks may be more difficult, or may involve high altitude trekking. It is generally advisable to be accompanied by a local guide. Ensure that the pace of the trek is not too rapid, since this could result in exhaustion, and would in any case not be enjoyable.
The adventure season, which till recently, was confined to the summer months, now covers almost the entire year, including winter. This has been made possible by improved equipment and transportation, and the availability of year-round bookings in areas, hitherto, considered inaccessible. Moreover, winter treks are gaining popularity as a means of 'getting away' to relatively lower altitudes.
Precautions and PermitsPrecautions
: It is advisable to be medically examined before starting a trek. The first aid kit for the trek, should include basic medicines and bandages for cuts, burns, headache, nausea, constipation, diarrhoea, and sore throat. Running water should be used for washing, and washing should be done well downstream of campsites. Keep a map handy, and set a comfortable pace. Allow for time to enjoy the panoramic and magnificent sites of the awesome mountains, rivers, flora and fauna.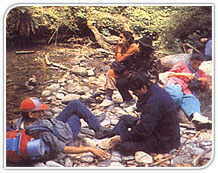 Permits
: Indian nationals need no permission for trekking in any area, outside the Inner Line. For routes inside the Inner Line, the local District Magistrate's permission, or that of the Central Home Ministry is necessary. For foreigners, crossing the Inner Line is not permitted. Treks upto 4900 mts need no permission, and can be undertaken on tourist visas. For treks above 4900 mts, prior permission is to be taken from the IMF. Camera permits are also necessary.
Equipment and InsuranceEquipment
: A firm rucksack with broad straps, sleeping bag, foam mattress, comfortable walking shoes, raincoat, torch, matchboxes, umbrella, and water bottles are essential. Personal clothing including woollen shirts, pullovers, T-shirts, feather jacket, longjohns, toilet items, camera and film, should be included to suit the duration and altitude of the trek, while keeping the overall weight to the minimum.
Insurance
: This is possible through the standard insurance companies. The IMF, Indian Air Force, and local authorities should, as far as possible, be kept informed of the route.
Grading of Treks
The treks described have been graded according to their level of difficulty.
Grade 1:
: Soft trek, round the year
Grade 2
: Seasonal / mild trek (April - November)
Grade 3
: Tough, high altitude trek (seasonal)
Trekking Routes:
Some of the Popular Trekking Routes:
The Har-ki-Doon Trek
(Grade 1)
The Chandrashila Winter Trek
(Grade 1)
The Dehradun - Kempty Falls Trek
(Grade 1)
The Rishikesh - Gopeshwar Trek
(Grade 1)
The Gangotri - Kedarnath Trek
(Grade 2)
The Kedarnath - Vasukital Trek
(Grade 2)
The Kalindikhal Trek
(Grade 3)
The Pithoragarh - Sinla Pass Trek
(Grade 3)