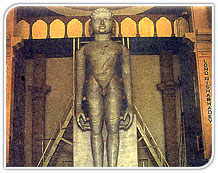 Besides its association with Hindu mythology, Ayodhya has also nurtured religious values through Jainism. It is the place were five Tirthankars were born and preached the Jain religious values.
The following places in the vicinity of Ayodhya have also been equally important and justify their respectable position in the history of Jainism :-
Ratnapuri:
on the Ayodhya- Lucknow national highway, is located 24 km. To the west of Ayodhya near Ronahi. It is the birth place of Lord Dharamnath and the site of his sacred grove.
Swargdwar:
a locality in Ayodhya, still retains the spirit and vivid memories of the first Tirthankara, Lord Vrishabhnath. Just as it is described in the Mahapuran. He is also revered as Adinath, Purdev and Adi-Brahma. The Temple of Lord Vrishabhdev remains open from 7 am to 8 pm.
Baksaria Tola:
,
the birth place of Lord Ajitnath, is situated in Ayodhya and is also known as Begampura. There is a temple here which is dedicated to and named after him as 'Ajitnath ki Tok'. It is open for devotees between 7 a.m. and 8 p.m.
Ramkot Muhalla Rajghat:
in Ayodhya is the birth place of Lord Abhinandan Nath.l There is a temple here dedicated to his holiness. It remains open from 7 a.m. to 8 p.m. This is also the birth place of Lord Anantnath. The temple here remains open from 7a.m. to 8p.m.
Raiganj:
is famous for the Digambar Jain Temple and its 21 Ft. high idol of Lord Vrishabhdev.
Ayodhya is a place of tremendous significance for various religions ransport are available for reaching Ayodhya.
The airports in the civinity of Ayodhya include Amousi Airport (Lucknow - 42 kms.) and Babatpur Airport (Varanasi - 200 kms.). The rail and bus services from Ayodhya not only connnect the main cities of the state,but with the rest of the country as well.
Click Here for More Information About Ayodhaya