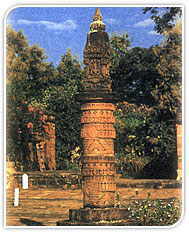 Pawanagar is famous for being the place where Lord Mahavir attained ' Nirvana'. It is also known as Sathiardiha and described as 'Sathik Deha'.
A magnificent Manasthamba has been constructed within the temple premises here.
The temple houses 4 beautiful carved idols.
Devotees from all over the world visit this place, specially on Kartik Purnima to celebrate the ' Nirvana Mahotsav', which is invariably preceded by much religious fanfare and a big procession.
Pawanagar, 55 kms. From Deoria and 71 kms. From gorakhpur can be reached by buses plying on the Tamkuhi Road via Kusinagar (Kasia)
Special Offers on Hotels & Resort Booking in Uttarpradesh
Travel Agents & Tour Operators offering Travel Packages in Uttarpradesh