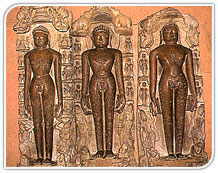 Mahoba, a city associated with the Chandella rulers of Bundelkhand between the 9th and the 12tg centuries, was also a great Jain centre. This one-time capital is now a small town wrapped in antiquity.
Apart from several picturesque lakes, there are also many other places of historical and archaeological interest.
On the southeastern part of Gokhar Hill are 24 rockhewn images of Jain Tirthankaras, with inscriptions dating back to 1149 A.D.
The
Gokhar Hill
, named after Guru Gorakhnath, has dramatic granite rock formations with caves and waterfalls during monsoons.
The nearest airport is Khajuraho which is 65 kms. Away.
Mahoba is well connected by rail as it is on the broad gauge railway line. It is also connected to other parts of the state by good motorable roads.
Other destinations of interest around Mahoba are :
Chitrakot - 125 kms.
Kanpur - 155 kms.,
Jhansi - 165 kms.
Khajuraho - 65 kms.
Banda - 52 kms.
Kalinjar - 130 kms.
Special Offers on Hotels & Resort Booking in Uttarpradesh
Travel Agents & Tour Operators offering Travel Packages in Uttarpradesh