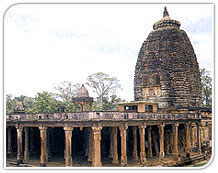 Deogarh, the Fort of the Gods, is situated on the right bank of the Betwa river at the western end of the Lalipur range of hills.
The natural setting of the fort is dramatic and so are its dimensions, which take the visitor by surprise. The fort can be entered through a corbelled gateway in the outer wall.
A path has been cleared through the undergrowth, and broken statues and artefacts lie scattered about. Within the fort is a remarkable group of 31 jain Temples.
The site was a Jaincentre from the 8th to the 17th century A.D.
Within the temples are panels which depict scenes from Jain mythology, Tirthankar images, Manastambha or votive pillars, Ayagpattas or votive tablets, Sarvatobhadra Pratimas or Jin images visible from all sides, and Shasrakutas or pillars carved with a thousand Jin figures.
Most important among the group are temple No. 11 and No. 12 and the Santinath temple. Among other important structures at Deogarh are the Varh Temple, the rock-cut cave-Siddha ki Gufa, Rajghati and the Naharghati.
The nearest Airport is Gwalior which is 235 kms. Away.
The nearest railheads are Jakhlaun - 13 kms. And Lalitpur - 23 kms.
By road, Deogarh is 123 kms.
Special Offers on Hotels & Resort Booking in Uttarpradesh
Travel Agents & Tour Operators offering Travel Packages in Uttarpradesh