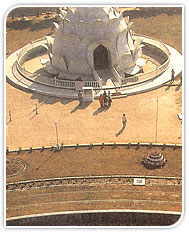 Hastinapur is located 37 kms. Away from Meerut.
It is considered to be the Kashi of Jain Religion. According to the Jain manuscripts, Hastinapur was constructed by the Gods.
Starting from the time of Lord Rishabhnath to the time of Lord Mahavir, Jainism has been influential in this place. Tirthankaras Lord Shantinath. Lord Kunthanath and Lord Aranath were born here.
In 1970, the Jain Temple was built here. In 1974, a Digambar Jain Trilok Sansthan was inaugurated here. In the month of Kartik, a Jain festival is celebrated here.
People from all over the country come here to celebrate this festival.
The festival of ganga Snan is also celebrated here.
Bus and Rail services are available from all major cities to Meerut.
Special Offers on Hotels & Resort Booking in Uttarpradesh
Travel Agents & Tour Operators offering Travel Packages in Uttarpradesh