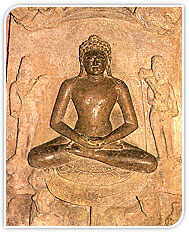 Prabhas Giri is situated on the banks of Yamuna near Kaushambi, at a distance of about 62 kms. From Allahabad, in Manjhanpur tehsil. In the ancient times, it was a part of Kaushambi and was surrounded by thick forests.
At Pabhosa, the 6th Tirthankar Bhagwan Padmaprabhu went into deep meditation on the thirteenth day of Kartik, after having renounced the world.
After six months of rigorous penance, he attained the eternal knowledge on the full moon day of Chaitra Shukla in a picturesque garden in the vicinity.
Pabhosa is also the place where Bhagwan Padmaprabhu got diksha and Gyan Kalyanak. Therefore, it is famous as the Kalnayak Tirth.
Travel Information:
The nearest airport is Bamrauli (Allahabad) which is 48 kms. away. The nearest Railway Station is at Bharvari which is 40 kms away. By Road, one can travel by taxis/ buses.