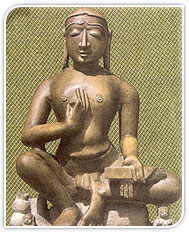 Sri 1008 Jambu Swami Digambar Jain Siddha Kshetra 'Chaurasi':
Sri Jambu Swami was born in Champa and was the son of a rich man, Seth Rishabhdutt. Even though he was married at the age of 16, he was initiated by Lord Mahavir's disciple Sudhama Swami and lived as a Brahmachari for the rest of his life. After 20 years of hard penance he attained the light of true knowledge and was enlightened at Chaurasi. He is the last Kewal Gyani of the Jains. A temple has been built here in his memory and dedicated to this holiness.
There is also a dharamshala within it which si surrounded by large and beautiful garden. There is a bird sanctuary to the left of the main gate of the temple. This place is better known as
Chawrasi
. It is 3 kms. North of Mathura City on the Delhi- Mathura by-pass road, on the Mathura- Goverdhan route. Dharamshalas with modern facilities are available for the convenience of the tourist.
Ram Nagar Jain Temple (Ahicchatra):
Ahicchatra was the capital of North Panchala (Present day Ramnagar of Bareilly district). This is the place where the 23rd Tirthankar, Lord Parshvanath renounced all material luxuries and started his meditation. It is also believed that Lord Gautam Buddha had given his teachings and Diksha tot he king of Naga Dynasty near a fort in Ahicchatra. Chinese pilgrim Huen Tsang has mentioned the name of this place as ' Ahichitala' in his writings. Some old and broken Jain Digambar statues have been discovered here. One of these statues has been placed outside the temple of Lord Parshvanath. Some of the Tirthankar statues recovered from the ruins of this place are preserved in the museums at Lucknow and Delhi.
In the ancient Parshvanath Temple, there are 5 Vedis dedicated to :
1. Tikhal Baba- which is a Black idol of Lord Parshvanath with engraved footprints.
2. White statues of Lord Mahavir, Lord Parshvanath and Lord Chandraprabhu.
3. Golden Statue Lord Mahaveer.
4. White Idol of Lord Parshvanath in Khandagasan posture.
5. A Statue of Lord Sheetalnath. About 1 km. Away from Ahicchatra is Ram Nagar.
The large Shikhar Chand jain Templeis situated here. In the Temple there is a high marble platform where a magnificent black statue of Lord Parshvanath has been placed. In front of this Jain Temple there is fort which was built during the period of Panchals. It covers an area of 3 square miles and is in ruins now. Inside the fort there is a big piece of rock known as Bhimshila which has been placed on a mound.
Some broken Jain Digambar statues have also been found here, which are worshipped by the villagers. Chaitra Badi Asthami and Nirvana Mahotsav on the Shravan Poornima, are the two main festivals that are observed here.
To reach Ahicchatra, the nearest railway station is 5 kms. From Ramnagar. Bus services from Bareilly, Badaun, Aligarh, Delhi and Meerut are available via Aonla. Dharamshalas have been built by the Jain Mandir Samiti for the benefit of the pilgrims and other tourists.